Learn what CRM integration is and its best practices

Integrating a CRM platform within your website when everyone uses the internet is a must-have. It is crucial that you use customer relationship management software no matter whether you're in the sales or services area.
Learn more about CRM integration in the newest guide from the Global Cloud Team!
What is CRM integration?
If your company is big enough, you definitely have a content management system (CMS). Integrating the CRM system within this system will help you work with customers more effectively. It automates the gathering and processing of your clients' information.
Some of the benefits of using CRM technologies are:
Simplified data and lead management;
Marketing, sales, and support processes in one place;
Significant ROI increase.
Now, imagine that your information from the CRM and CMS is combined in one place. All the features are available at the same time, increasing efficiency and productivity.
Why start CRM integration?
It does not matter whether your website is an e-market or a landing page. In both cases, it is an important part of your business that gathers customers' data. All their actions are recorded: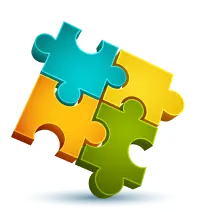 We are confident that we have what it takes to help you get your platform from the idea throughout design and development phases, all the way to successful deployment in a production environment!
Contact us
Viewed content;
Downloaded materials;
Contacts when forms are filled in;
Polls and comments.
This helps you see which ideas are successful and what must be changed to provide the best service for your customers.
Now, let us improve the analytics with CRM integration. At the very least, you will be able to sort contact information by the pages from which it was submitted.
Some interesting practices of several popular brands are sending emails to users after they have browsed a certain page of the website. For example, sending invitations to the support center after a customer visits the FAQ.
Having an integrated CRM system, you get a chance to improve your services and see what truly interests the consumers. That way, turning one-time visitors into regular buyers becomes significantly easier.
How to integrate CRM with a website?
Generally speaking, there are various approaches that are used by specialists in this area. We shall cover the most frequent options.
Third-party services like Salesforce
One of the simplest choices is working with third-party services that do everything for you. However, it comes at a decent cost, and that means that your company's annual expenses will grow significantly.
The major advantage is the possibility to customize the application according to the business's needs along with being supported by the provider. In case any issues occur, you may contact the provider directly for assistance.
Custom integration
While most solutions lack the required features, it is possible to integrate CRM in a personalized manner with the Global Cloud Team. Our specialists will add and configure any lacking features. You won't have to worry about the integration process as it will be the responsibility of the experts from our team.
Developing a custom CRM solution
Apart from integration, you may also order development of a custom CRM application for your company to reap the benefits of using personalized software. It will cover all the needs of your business and will be much more efficient than getting a ready solution. However, the development time will be somewhat longer.
Each option comes with its own pros and cons, so the decision must be made based on the current and future goals of the brand. Make sure to discuss your thoughts with the team and an IT consultant.
3 CRM integration pitfalls
It is great when you know еру answer to what is CRM integration and all; however, you shouldn't forget about all the pitfalls that will stand in your way. As it is said, forewarned is forearmed.
1. Focusing on a single process
This is the most common mistake in all types of companies. Business owners focus on one process and neglect the recommendations of other specialists. While it is cool to have different systems for various needs, CRM integration requires that a connection is established among each. You'll get a broader view of your customer when that's done.
2. Leaving data security breaches
The more applications are available within your company, the higher the risk of a breach occurring. CRM software holds sensitive data that must not be available outside the corporation. Apart from following basic rules like strong passwords and different security layers, you must also get testers to try breaking into the app to avoid breaches in the future.
3. Forgetting about data cleanliness
When a lot of information from different sources is replicated, it is quite easy to get things mixed up. As soon as one of the apps loses synchronization, you will immediately see that there is no clarity in the data. Providing clear documentation that will show where and when the data is supposed to come from may simplify things a bit. Perform various tests and find the best solution.
The bottom line
Now that you know about CRM integration with website, it is time you proceeded to the process itself. Combine the features of all your options and reap the benefits in no time!
I am here to help you!
Explore the possibility to hire a dedicated R&D team that helps your company to scale product development.