Healthcare
Cooperating with GlobalCloudTeam you receive expert help and technology to improve overall care about patients, effectively manage records, facilitate administration tasks, support telemedicine, remote patient monitoring, and reduce the error rate.
Our tech solutions successfully help healthcare organizations with administration tasks, remote patient care and education, implementing electronic health records, and managing pharmaceutical industry tasks.
Depending on your business needs, we are ready to develop customized software:
to provide real-time feedback on patients' vital signs and other health metrics
to detect early warning signs of disease or deterioration in health
to provide reminders for scheduled medications or treatments
to help manage chronic conditions by providing education and support
to generate reports, make schedules, form bills
We aim to give innovative and customized solutions to strengthen your business in the healthcare industry.
GlobalCloudTeam has the skills, experience, and resources to develop even the most complex healthcare solution. If you have an idea, just let us know; our experts are ready to create the product from planning to implementation. With GlobalCloudTeam, all plans can become trends.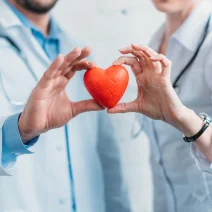 We are confident that we have what it takes to help you get your platform from the idea throughout design and development phases, all the way to successful deployment in a production environment!
Contact Us