Travel & Hospitality
From mobile apps for trip planning to online booking platforms, technologies play a vital role in making the travel industry more efficient and user-friendly. GlobalCloudTeam successfully uses engineering and informatics to help travel agencies and operators, travel management service providers, hotels and resorts, and airlines outperform competitors.
Our solutions are designed to level up your business with innovations and technology. The reasons to boost the development:
increase sales and achieve global expansion goals
save time on routine tasks and focus on important goals
increase overall productivity
provide high-class customer services
If you need to understand customer behavior and preferences better and provide personalized and targeted services, GlobalCloudTeam can help. Our engineers will develop booking and reservation systems or any application to connect customers with service providers, provide travel management solutions, make custom software for operations management, and implement machine learning and AI solutions in your travel company.
Automate your core business processes and better meet customers' needs with GlobalCloudTeam software. Our experts will boost your business to become an innovative and high-rated company in the traveling and hospitality area.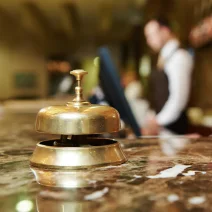 We are confident that we have what it takes to help you get your platform from the idea throughout design and development phases, all the way to successful deployment in a production environment!
Contact Us