Automotive
When the car was no longer just a means of transport but transformed into a personal device that works within a complex digital ecosystem, the automotive business became the one where technologies are the ground. IT solutions are used to design, engineer, and test vehicles, as well as to manage the manufacturing process.
What does GlobalCloudTeam offer to automotive companies who need an innovative solution:
Big data and analytics
Management software
Automotive navigation software development
Mobile apps
Software for car-sharing and taxi services
Depending on customers' needs, we can help to connect dealers with customers and provide them with the information and services they need or develop a testing system with email alerts, reports, and real-time dashboard analytics. Give us a straightforward task and receive the company's digitalization strategy in the automotive segment.
We transform technologies that are challenging to develop in simple and elegant custom solutions. With our experts a small idea grows into a fully-fledged product. Get the maximum from technologies for your automotive business with GlobalCloudTeam.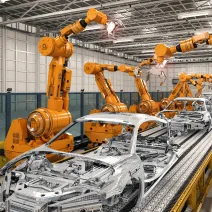 We are confident that we have what it takes to help you get your platform from the idea throughout design and development phases, all the way to successful deployment in a production environment!
Contact Us