AI in Manufacturing: The Impact on the Industry Transformation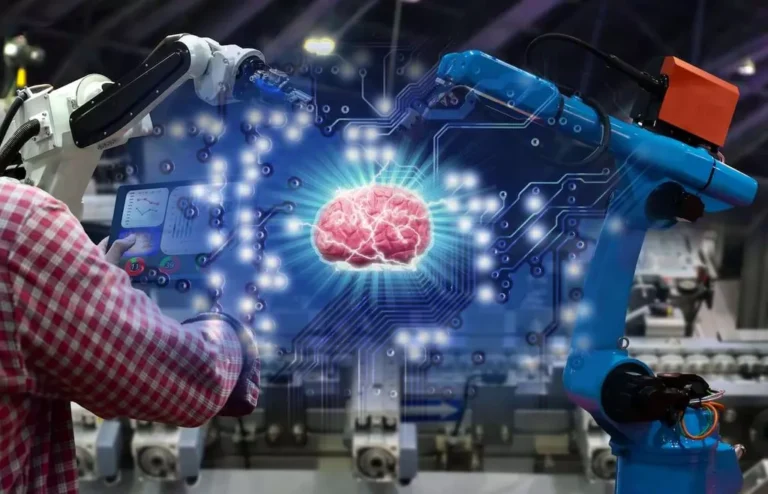 The 21st century marks the age of artificial intelligence and ML. Industrial manufacturers utilize these technologies worldwide to optimize standard procedures, cut production charges, and minimize errors. Moreover, they are progressively being included in enterprise resource planning system software.
The AI in manufacturing market is bound to reach $16.3 billion by 2027, soaring at a compound annual growth rate of 47.9%, predicts a Markets and Markets study. The scope of technological utilization is broad, from reducing production expenses to eradicating human error. In the article, we'll go into further detail on AI's prospects and current uses in production.
What Is AI in Manufacturing?
The idea of utilizing artificial intelligence technology in manufacturing goes beyond the concept of factories composed entirely of robots, which has dominated the industrial arena since the 1960s. It includes smart, networked manufacturing companies, where man and machine interaction is seamless and data-driven analytics encourage spruced-up prediction and well-informed decisions.
Tiny factories and the Industrial IoT create considerable volumes of data which artificial intelligence adeptly leverages. As a result, there may be many different industrial applications for it. AI instruments like deep learning, NLP, and ML are going into the spotlight among manufacturers. These are the golden ticket to practical info analysis.
Predictive maintenance, which uses AI to create data to get better failure prediction and fix scheduling, is one widespread use of AI in production. This strategy results in affordable support.
The positive sides of AI, however, are going beyond. Other applications are more precise demand prediction and optimized material utilization. Production and AI are closely aligned because, in production settings, humans and robots collaborate closely.
The employment of AI in manufacturing creates new possibilities in flexible, efficient production, particularly when making complicated items in small quantities while considering specific client requirements.
AI in manufacturing has enormous potential. Roland Berger analysis states, by 2035, smart systems and networked process chains in Western Europe might result in an extra €420 billion. PwC reports, by 2030, AI will help the economy soar by $15.7 trillion.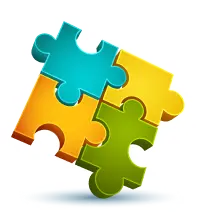 We are confident that we have what it takes to help you get your platform from the idea throughout design and development phases, all the way to successful deployment in a production environment!
Why Is AI in Manufacturing Important?
This top-notch technology is pivotal among manufacturers. Manufacturing generates a greater volume of data than any other industry, yet it also consumes the largest amount of data. AI assists in factory automation, maximizing the value of big data to justify decision-making. Let's examine some other crucial aspects of applying innovations:
Manufacturers evaluate the state of their instruments and forecast when the fix is necessary with the help of AI. You save 30% on expenditures and unforeseen downtime by employing ML in predictive maintenance.
AI offers a 360-degree viewpoint of warehouses, production lines, and factories. You utilize the info to discover quality issues, cut waste, and enhance other aspects of manufacturing. It aids firms in 20% productivity growth and 35% quality improvement.
It impacts expenses and material consumption while increasing productivity.
Analytical models cannot match the precision of key procedure measures obtained by ML innovations.
The AI models adjust to a particular production operation by applying values concealed in the info through Big Data analysis and considering the process parameters' weak relationships.
After all, increasing production efficiency by a few percent will result in considerable cost savings and give the business a competitive edge.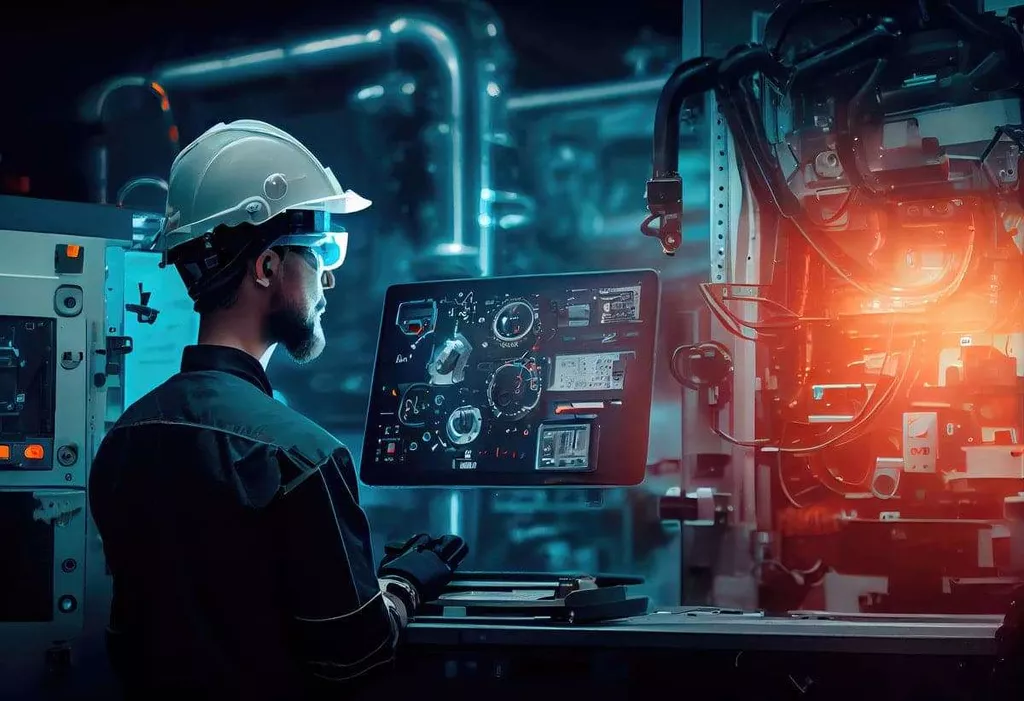 How Is AI Changing the Industry?
Manufacturing encompasses a great scope of different processes — from reports in IT systems to robots in operations. AI finds its use in all these procedures. Let's learn how AI improves manufacturing efficiency.
Autonomous vehicles
Automating loading machines, conveyor belts, and other equipment is possible with the aid of self-driving cars. Uncrewed vehicles make distribution more serviceable and enable round-the-clock work.
Cars with detectors keep track of real-time info regarding traffic congestion, path state, accidents, etc., to think deliveries through more precisely, reduce crashes, and give notice to authorities. It accelerates delivery while also enhancing security.
Logistics management
The integration of AI in manufacturing cuts down mistakes during the packaging and transportation of products. The algorithm constantly learns and enhances its performance, adjusting to the demands of a specific enterprise. With it, you can add multiple supply chain management alternatives to your ERP system, form routes with thousands of points in less than a minute, and scale production without extra logistics management expenses.
The evolution of procurement
AI is a go-to option if you need to mitigate costs and enhance product attributes. AI-powered software gathers data about suppliers, estimates their financial stability, and studies feedback. After the research, the system warns customers about possible risks. Quality assurance shows whether raw materials of similar quality can be purchased at a better price. In addition, with these technologies, you streamline transactions with suppliers and eliminate errors and fraud when transferring funds.
Warehouse automation
Business owners know how important it is to have a well-functioning warehouse. Storehouse automation covers everything from enforcing AI solutions that handle invoices, labels, and documents with the aid of algorithms to streamline rack space, which results in a mind-blowing interest in warehouse management.
Amending IT operations
Robotization in IT operations, or AIOps, is another noteworthy advantage. It is the newest approach to automatizing IT workflows employing big data and ML.
It could be most efficacious when used to automate data handling. AIOps can help in managing and optimizing energy consumption in manufacturing facilities by analyzing data and making real-time adjustments to minimize energy costs and environmental impact.
It can quickly identify deviations from quality standards and take corrective actions, predict demand, optimize inventory levels, and identify potential disruptions in the supply chain, enabling manufacturers to make more informed decisions.
State control and predictive maintenance
Every enterprise faces problems. It is fundamental to know how to spot and eradicate them. A condition monitoring tool recognizes issues (such as wear or malfunctions) during operation founded on the slightest modifications in measured data sequences (such as the machine's sound). It categorizes them and generates appropriate reactions. The predictive maintenance tool uses data sequence analysis to predict failure, and wear on individual devices or equipment, letting you carefully schedule maintenance, minimize downtime, and speed up troubleshooting and repairs.
Staff assistance
Employees often complain they must spend time on monotonous work. Here, AI will come to the rescue. With its help, you can easily find out how many goods are stored in warehouses at any time and quickly find the right item without tedious inventory. This approach frees up time to solve logical and creative tasks, identify competitive advantages, introduce new product types, and enhance existing ones.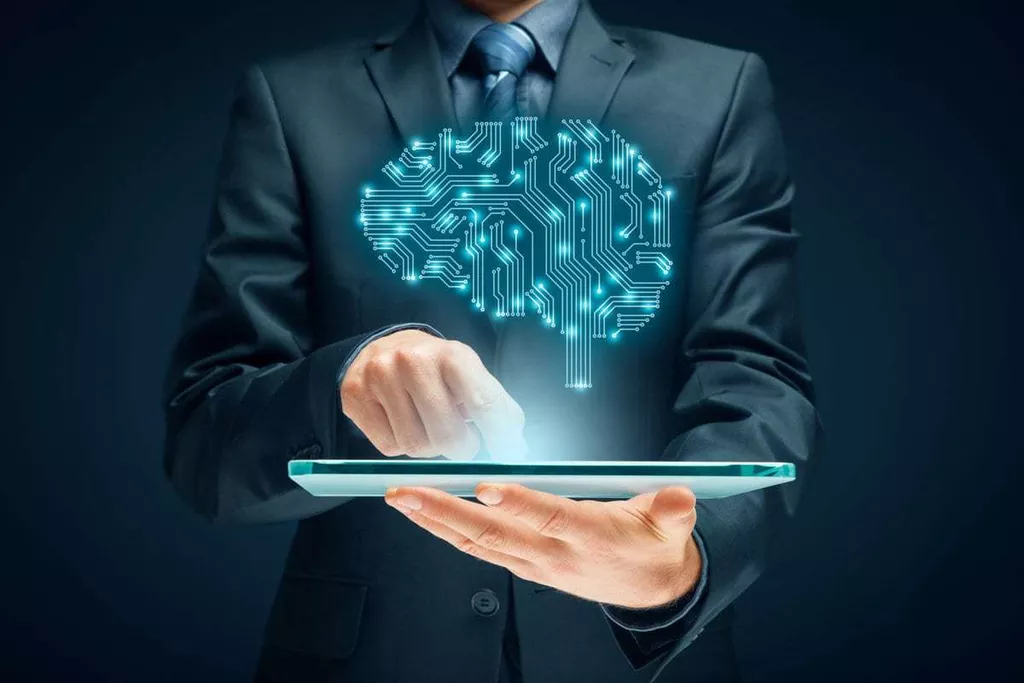 Use Cases of AI in Production
So, how is AI used in manufacturing within the practices of industry-leading corporations? Leading companies are coming up with out-of-the-box methods to embed AI into their work.
DHL utilizes a Stretch Robot that picks up items from any corner of a shipping container without knowing how the repository was filled or the specifics of each box.
Machine learning is also used by companies like Samsung, Google, and NVIDIA to craft chip design and escalate production.
One business using robotic process automation is Whirlpool. It uses RPA to bring up to code for the assembly line and material handling.
BMW applies AI to estimate demand and handle stock-taking. In one example, a business set up an AI system to stop empty boxes from being moved on conveyor belts. Additionally, the technician determines if the container has to be fastened to the pallet and spots the best way to dispose of the boxes.
Tips for Implementing Top AI Practices in the Manufacturing
It is not enough to merely know about the subtleties of adopting AI; you have to discover the ways to implement it into your organization correctly. We've gathered the most outstanding advice to assist you in navigating the procedure:
Hire the top professionals to handle AI practices: Operations managers will assist in understanding manufacturing deals and potential opportunities in AI optimization, IT specialists will assist in creating software that can communicate with contemporary production systems, and financial experts will project the costs of implementing AI and evaluate the viability of projects.
Develop data storage systems that can effectively process massive datasets. It's crucial to provide specialists access to information so they analyze it and come to conclusions at all levels.
To assess the success of AI technologies, it is critical to recognize the key production phases, pinpoint the weak spots where AI is used, and examine the losses brought on by issue spots. As a result, you will be able to create AI systems that address specific issues to lower expenses and boost productivity.
Your venture is likely to undergo substantial development. Beyond merely a fancy ML model, artificial intelligence may open up several options; it boosts innovation across the board for all organizational processes, not just those involving machines. AI may enhance spreadsheet operations and present data helpfully on an analytics screen.
Leave the one-size-fits-all strategy behind. Some AI service providers advertise ready-to-use solutions in predictive maintenance as though you only need to download your data. A clear and thorough understanding of the particular workflow must be the foundation of the ideal solution, which must address the precise issues and priorities. Pre-assembled models are probably not the magic solution. It is likely to result in more significant expenses and kickbacks.
Even though they often take time to develop, custom AI solutions can be fitted to a company's unique needs and ultimately generate substantial income.
Summing up
AI accelerates Industry 4.0 and converts the production sector. Although there are some obstacles to be solved, such as the need for specialized knowledge and the integration of AI technology into current systems, the potential benefits of AI in manufacturing are beyond question.
It's critical to embed AI to get the best out of its use in the production sphere. However, in addition to strengthening your staff, doing so requires a considerable investment of time, effort, and money.
To get the best expert support for embedding AI in manufacturing, contact Global Cloud Team professionals. From predictive maintenance to quality control and supply chain optimization, our team is here to guide you on this exciting journey. Contact us today to explore how we can tailor AI solutions to elevate your manufacturing operations to new heights.
I am here to help you!
Explore the possibility to hire a dedicated R&D team that helps your company to scale product development.