Guide on how to hire software development team for your project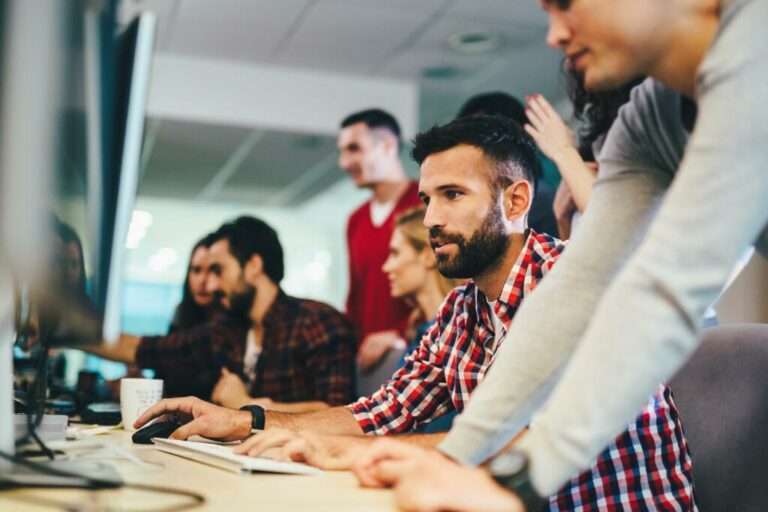 A trustworthy and well-versed software development team is a must for every project's prosperity in the digital era. The proper group of pros you choose to collaborate with may make or break any undertaking, regardless of whether you are a startup or an already functioning business. Deciding on a dedicated software development team is essential to its unparalleled success.
This article will provide helpful advice on selecting the most appropriate team. We will touch on the intricacies you must know to make a well-thought-out decision, from comprehending the various dedicated development teams to drilling down the advantages of offshore developers. So, let's dive in and explore the secrets of building a dream team.
Size and members of software developers' team
A dedicated software development team typically requires up to 7 members to be effective. With so many skillful specialists, the group could manage and finish the job and reach new heights. Each member should have a keen sense of duty and be devoted to the project. Generally, the dedicated development teams comprise these experts:
Web developer. Thanks to him, the layouts created by designers come to life. These experts make page layouts to be displayed correctly from a mobile phone and a PC.

Backend and frontend developer. The specialist implements the functions that the system should have and also creates the logic responsible for ensuring that all the system parts are performed exactly as it was initially intended.

To optimize the project's value, the product owner is in charge of ensuring that it complies with the aims and objectives of the business owner. They work to ensure the project is carried out appropriately and follows relevant rules.

A quality assurance (QA) engineer's duties include checking outcomes, spotting problems, picking techniques, and developing instruments to establish results.

The project manager's range of duties comprises managing resource allocation regarding timeline and budget and doing risk assessments. The primary objective is ensuring effective project implementation, which can be done without a working knowledge of the product.
Sometimes a project requires more specialists or more highly specialized experts:
The team's leader adopts the mentor position, offering each member advice and direction. They are in charge of monitoring the group's performance.

A tech writer is a crucial group member who assists with documentation-related responsibilities. They have to be familiar with the necessary tools and standards. Creating user-friendly content takes center stage in some projects.

The chief architect, a well-versed expert, is responsible for developing the system's technical and functional requirements. They create plans and ideas regarding the project's implementation and choose the right technology.

Additionally, teams may require a US/UI designer. They are creative specialists in charge of developing functional and visually pleasing interfaces. 
Overcrowding may arise if the group has more than seven specialists, which can cause coordination issues, necessitate a distinct separation of tasks, and require establishing rules.
Staff, outsource, outstaff
There are various approaches to forming a mind-boggling team: expand your own staff, cooperate with independent pros, and draw outsourcing or outstaffing firms. Each of these choices offers a set of positive and negative sides.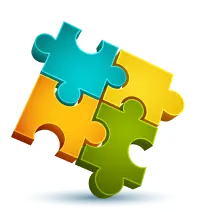 We are confident that we have what it takes to help you get your platform from the idea throughout design and development phases, all the way to successful deployment in a production environment!
Contact us
Some companies opt to collaborate with outstaffing ventures. The software development company, in this instance, completes the project while being employed by a third-party service provider. The project owner oversees every member and communicates with them.
Another option is to collaborate with outsourcing ventures. The third party worked up to perform the tasks under the agreement terms. The alternative poses various positive aspects. These groups of experts are scattered worldwide, but the project's process is effectively supported. Lower costs, more accessible access to resources or skills, less time spent, and increased efficiency are all significant plus points. The project owner does not need to spend time seeking experts and can dedicate himself to other tasks.
5 main steps to hire a software development team
We have put up a brief guide on finding a skilled software development team from a great scope of remote professionals. Here are we gathered 3 the most important steps to take:
Find out the goals and needs of the project. Next, decide on the pitch-perfect group size, the critical players, and the duties.

Decide on the style of work and the financial limitations, such as whether to

hire software development team

as internal workers or contract out the project's execution to a third-party organization.

Finalize the contract terms, detailing the project scope, timeline, budget, payment terms, and any other relevant points. 

Prepare interview techniques and tests to define skills and knowledge.

Ascertain the technological stack and identify

dedicated development teams

possessing pertinent experience. Scrutinize the team's prior cases and niche expertise to ensure the project makes headway. While evaluating competence, portfolios, and tasks similar to yours can make a real difference. 
Additionally, it is crucial to evaluate the room for long-term collaboration in software development, as any undertaking requires updates and fixes. The success of establishing a group of experts is contingent on your ability to analyze information and communicate effectively.
How to speed up the hiring process
A recruiter has to set aside up to 7 weeks to hire one high-skilled developer. Sometimes, hiring seven people in a software development group within a corporation takes a minimum of six months. It might take up to a month to find a readily accessible crew. Follow these tips to spruce up the process:
It is imperative to devise a plan of action. It comprises identifying appropriate search channels and crafting a comprehensive and compelling job description.

Use recruitment metrics to measure the statistics and effectiveness of your ads. Eliminate channels that are performing poorly.

The interview process is the most time-intensive aspect. Invite only those individuals who meet all criteria.

Establish a talent pipeline for the long haul if you intend to

hire software development team

. It will minimize expenses and time associated with talent acquisition.
Don't wait to sign the contract after you've located the go-to group of experts. Professionals at the top of their game are frequently swamped with work, so move quickly to ensure the pros are up to dive into the project creation.
Top locations to seek your perfect team?
Offshore development is a thriving business strategy among established companies and novice ventures. Though, where to get whizzkids to form a team is still an open issue. To help in finding potential contractors, there are some solutions accessible.
Google
Even if it seems obvious, Google may be a valuable resource for finding a development company if the correct terms are used. The search results might be more precise if you include terms associated with the demands for software development. Searches using broad key phrases like "hire software developer" will yield thousands of outcomes.
Freelance platforms
If the project necessitates a tiny group or a few technical experts to bridge skill gaps within the team, collaborating with freelancers is a nice choice. The creation of freelance marketplaces like Upwork made it simpler to locate workers. You can arrive at a well-thought-out decision by looking at their cases, evaluations, and reviews. Additionally, these systems handle the administrative tasks associated with working with independent contractors, freeing your time to focus more on the project's advancement.
B2B portals
Outstanding platforms that provide thorough data on software development businesses are Clutch and Goodfirms. Every credible and reliable company is available on at least one of these resources. You may use a simple filter to center the search to a small number of options by categorizing businesses based on rates, tech solutions, and service type. These websites are pretty useful for finding specialized information and customer reviews.
LinkedIn
Because of its enormous user base and niche features, LinkedIn has grown to be a leader in expert networking and leader acquisition. It helps get in touch with professionals throughout the world. The following are some of the platform's most valuable uses:
The company pages provide in-depth information on a firm's size, location, and industry. Anyone can locate the info on competence and overall success.

LinkedIn groups act as centers of visionaries. It is easy to reach a sizable scope of applicants and others with similar viewpoints by joining communities pertinent to

software development

, outsourcing, or

dedicated team developers

. 

The platform is teeming with thought leaders. You may get insightful knowledge and stay up-to-date on the most recent cases in

software development

by keeping a watch on them. 
LinkedIn may be a helpful resource in seeking top-tier IT businesses and qualified software engineers.
How much does it cost to hire a team? 
Based on several factors, such as the complexity of the undertaking, duration, team size, and degree of skill, the cost of employing specialist groups varies greatly. When collaborating with a team, the following pricing structures are the most widely-used:
Hourly rates: This strategy pays each member an hourly wage. The prices are between $25 to $150 per hour, depending on the country and skills.

Fixed price: An agreement on a set fee for the entire project is required for this arrangement. The breadth, complexity, and anticipated effort will be used to establish the cost. It can range greatly, starting at a few thousand dollars and going up to several hundred thousand dollars or more.

Dedicated team: This concept includes employing a committed workforce over a lengthy period. Each member's monthly or annual compensation will lie at the bottom of the price, including extra management costs. Getting a well-versed

development team

is rather evident in terms of price. Depending on the

dedicated development teams

location, the rate will range from $5,000 to $25,000 monthly.
To calculate the sum accurately, reaching out to ventures and talking to them about project details is recommended to get a tailored price list.
How to avoid possible problems
Being proactive in preventing any possible issues is crucial when recruiting a team. You may lessen the possibility of encountering problems later on by carefully choosing a group of specialists and setting clear expectations upfront.
Once you've picked your team, setting clear expectations and objectives is all-important. Lay down the project's parameters, including duration, deadlines, and specified deliverables or completion dates. Ensure everyone is on the same page and working towards the same objective.
To prevent issues during the development process, communication is also essential. Regular check-ins, whether in person or online, may assist in seeing possible problems early on and resolving them. Encourage honest and open communication among members to promptly settle any emerging issues.
Similarly to communication, creating a strategy for handling project modifications and revisions is crucial. It might involve using project management tools to track and record any changes to the original plan or implementing a formal change management framework. You can prevent scope creep and ensure that project resources are utilized effectively by taking a disciplined approach to change.
Summary
It is essential to be ready to do your utmost when selecting developers. It takes a lot of time and money. You may choose dedicated development teams to reduce the strain on the resources. Such a cooperative strategy gives access to experts from all around the world.
The Global Cloud Team is your go-to option when trying to hire software developer. The company allows you to improve business profitability by offering a whole range of services, such as engineering, implementation, and maintenance. Using defined command procedures streamlines activities and makes goal-reaching smooth. It lets you track the project, get feedback, and make any required revisions. Collaborating with the Global Cloud Team can help you save on software development expenses and let you prosper.
I am here to help you!
Explore the possibility to hire a dedicated R&D team that helps your company to scale product development.